1st Annual Future Women of STEM Conference
May 23, 2017, FMCC, Johnstown, NY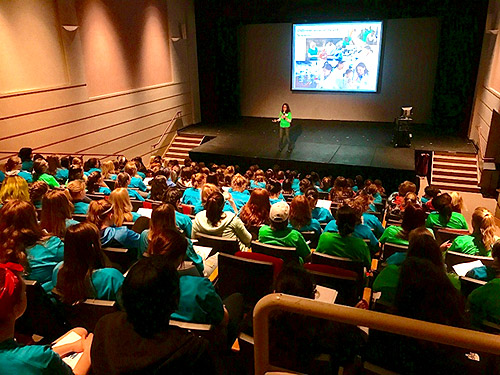 In its inaugural year, the Future Women of STEM Conference was held at FMCC. On Tuesday, May 23, 2017 over 150 middle school girls from twelve local school districts participated in their choice of three (of twelve) hands on workshops designed to inspire and encourage these young women to discover the fun and relevance of STEM. Beyond the interactive workshops, the event included breakfast and lunch, a keynote speaker and a free t-shirt.
Research highlights the fact that middle school is the time when girls are most likely to become disinterested in STEM subjects because they don't think they fit what society deems the typical STEM student. The goal of FM's Future Women of STEM Conference is to help combat the stereotypes that keep girls from pursuing careers in STEM and motivate our community's young women to change the norm, and lead the way. The majority of workshops were led by current women of STEM, FM faculty, who provided the girls an opportunity to interact with role models who are practicing in STEM fields. By working with these women in STEM, the hope was that the students would be able to envision themselves as capable of achieving similar roles and, maybe one day, being the ones to share their own influential stories.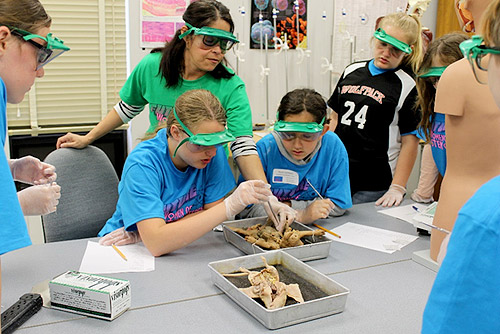 These connections were further developed by the collaboration with the co-sponsor of the event; the Amsterdam High School Science and Technology Entry Program (STEP), a NYSED funded grant housed through FM. STEP students also participated in the conference as part of their day of service for their program, of which the aim is to promote STEM pathways to younger peers in their communities. The female STEP students helped with the coordination of the event and were present at each workshop, helping presenters with their activities, assisting the middle school students with the daily schedule and finding their way to workshops that were held in various buildings on campus. STEP students also took the opportunity to talk to the middle school girls during breakfast and lunch about their experience in STEP and their enthusiasm for the STEM related career paths that they hope to one day pursue.

Source: Fulton Montgomery CC STEP