CEYE Launched New Clinical Track for Young Men of Color
Summer of 2017, New York, NY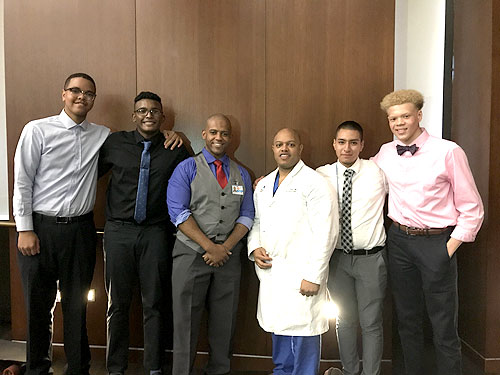 Since 1975, the Center for Excellence in Youth Education (CEYE) has been preparing minority and disadvantaged youth for careers in science and medicine. CEYE's Science Technology Entry Programs (STEP) encompassing their annual summer research courses and clinical internships attracted a record number of 108 high school students participating from across New York City. Along with coursework ranging from Fruit Fly Genetics & Genomics to Nanotechnology, CEYE launched a new clinical track for young men of color in the Summer of 2017.
Doctors Reaching Minority Males Exploring Neuroscience – also known as Dr. MMEN, is the product of a partnership between the CEYE and the Department of Neurosurgery. Thanks to support from System Chair, Dr. Joshua Bederson, PGY-5 Resident Dr. Ian McNeill, and PGY-4 Resident, Ernest Barthelemy, four young men of color participated in a 6-week clinical rotation in neurosurgery.
"The number of African American men that applied to medical school in 2014 was actually less than the number of African American men that applied in 1978", explained CEYE Program Director, Alyson, "which is why specific and targeted interventions like this are needed".
Through this program STEP funded program, CEYE and the Department of Neurosurgery have been able to create a community for young men of color to explore careers in neurosurgery and medicine at-large. In addition to rotations in the operating room, the neurosurgery intensive care unit and outpatient office hours, the students participate in weekly seminars led by Dr. Ian McNeill, which explored topics such as mental health & wellness, vision and goal-setting, and dealing with racism and bias during the pursuit of a professional career.
Jonathan Joasil, a Dr. MMEN program participant reflected on his experience in the program: "Dr. McNeill and the rest of the Department of Neurosurgery has given us an opportunity to stand out in the best way and has empowered us to think that we can go anywhere. We explored the plethora of challenges that face us, as minorities, the mindset on how to better ourselves, along with strategies to continue to build our futures in any field of work. I took away the idea of expecting the best out of myself and not letting outsiders tell me otherwise."


Source: INSIDE Mount Sinai Website