Albany Medical College STEP students participate in Fibonacci Project and meet Shark Tank's Daymond John
Summer 2017, Project Fibonacci Conference, Rome, NY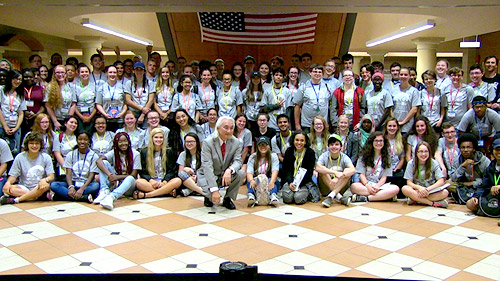 2017 Project Fibanocci Conference with Dr. Michio Kaku
Albany Medical College STEP has the unique opportunity to add health care based expertise to our STEP activities but not all our students have a health care interest. Therefore, we work diligently to seek out opportunities both within our academic community and outside of Albany Medical College to meet the needs and interests of our students. This past summer, two of our physics minded students had the opportunity to attend the week-long Project Fibonacci conference in Rome, NY. Both students were awarded significant scholarships to attend the conference.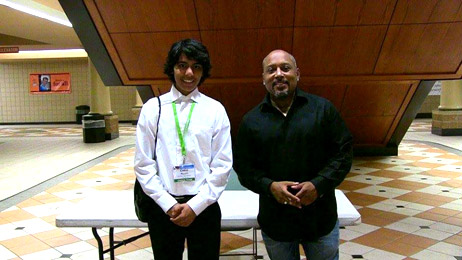 Albany Medical College Chris P. with Shark Tank's Daymond John
Project Fibonacci's mission is, "To promote the next wave of young scholars, scientists, artists and productive citizens through a journey of self-discovery by positively motivating and enlightening them." During the 2017 conference, our students had the opportunity to learn from some of the celebrated leaders in these various fields. Most notably, the students heard talks given by physicist Dr. Debbie Berebichez and theoretical physicist Dr. Michio Kaku. Our student commented that the most important take-away from Dr. Kaku was the thought that, "the jobs of the future will be created around creativity, imagination and expertise."
Throughout the week, the students worked collaboratively within a small group to develop an original product. Finalists were to be given the honor of pitching their product to Shark Tank's, Daymond John. A highlight of the week was when one of our students had the opportunity to share his Radio Frequency Identification (RFID) sticker product to the shark. His team did not win the competition but the experience was invaluable.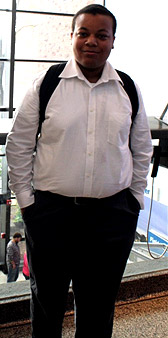 (Left: Matthew M. Project Fibonacci attendee)
Our students came back to us excited about the information they had learned and the opportunities they had participated in during the Project Fibonacci conference. One of the students is now working with his high school administration to encourage his fellow students to attend the conference and to help them seek sponsorship.


Source: Albany Medical College STEP