Syracuse University's CSTEP & STEP Programs Hosted it's 4th Annual TheBlackManCan/Men in STEM Institute
April 1, 2017, Syracuse Univerity, Syracuse, New York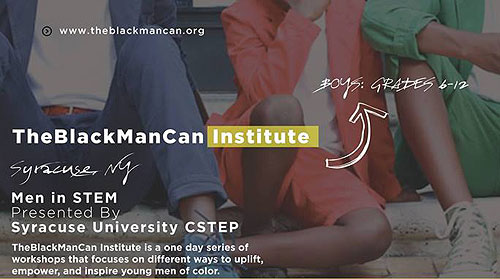 TheBlackManCan Institute is a one-day mentoring institute for young men of color in grades 6 - 12. Young men attending TheBlackManCan Institute can be assured that their cultural needs will be met and have the freedom to express themselves while fostering brotherhood.
On April 1, 2017, Syracuse University's CSTEP & STEP programs hosted its 4th Annual TheBlackManCan/Men in STEM Institute - Syracuse.
The goal in hosting this annual Institute in Syracuse is to continue to create learning opportunities for one hundred young men of color. The Institute is comprised of a series of seminars designed to uplift, empower, and inspire young men. The goal of the seminars is to ensure that, by the end of the institute, students are well equipped to turn stumbling blocks into stepping stones and model that behavior for others.
Source: Syracuse University STEP & CSTEP Programs