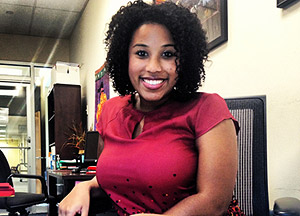 Nicole Boucicaut
Region: Long Island
Program Institution: Hofstra University
Education
High School: Holy Trinity High School
College/University: Binghamton University; State University of NY
Major/Minor: B.A. Biology; concentration in Cellular & Molecular Biology
Graduation Date: 2012
Advanced Degrees/Professional Licenses: Phlebotomy Technician

Work History
Employer: South Nassau Communities Hospital, Oceanside, NY; Phlebotomist
NYIT College of Osteopathic Medicine, Old Westbury, NY; STEP Coordinator
Lourdes Hospital, Binghamton, NY; Patient Care Assistant
Wilson Hospital, Binghamton, NY; Clinical Intern
Winthrop Hospital, Mineola, NY; Emergency/Oncology Volunteer

Significant Professional or Academic Accomplishments: Nicole epitomizes the success of the STEP program. She was a sophomore in high school when she stepped on the Campus of Binghamton University, during a STEP College Tour, and exclaimed 'this is where I want to go to college'. She fulfilled that goal and many more as she advanced through her educational endeavors. She graduated with a Bachelor's degree in Biology then received her certification in Phlebotomy, she is currently working in a hospital obtaining blood samples from neonatal to geriatric aged patients.
While attending Binghamton she worked and interned at local area hospitals; shadowing physician assistants who prescribed medications, conducted complete examinations, sutured wounds, applied casts on broken bones, ordered x-rays and blood tests, placed urethral catheters and , amazingly, delivered a baby. She was inspired by the compassion and reliability of the physician assistants she worked with prompting her to apply for her Master's degree in a Physician Assistant Program.
Nicole gives special thanks to Sabita Nyak for all the help and encouragement she offered through the STEP program. STEP & Sabita went beyond the academic opportunities and value of education and instilled a global sense of community and sharing that has directed her in life.
With her family background representing two Caribbean countries she knows the importance of giving back to her community. In addition to her work as a phlebotomist, she is currently employed as a Program Coordinator for STEP at NYIT College of Osteopathic Medicine. The unwavering passion to be the type of person who appeals to the physical, emotional, and spiritual components of her patients and her STEP high school students is what keeps her motivated throughout her journey.
Nicole has been credited with saying: 'I believe every person has been through some sort of adversity, and it is not how hard you fall, but how strongly you persevere while getting back up that makes all the difference'. She is an inspiration to us all.