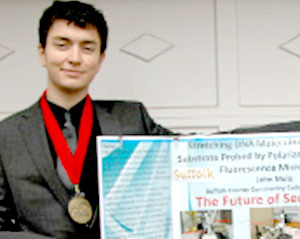 John Mele
Region: Long Island
Program Institution: Suffolk County Community College
Education
High School: Central Islip High School
Graduation Date: 2013
Significant Professional or Academic Accomplishments:
Participated in STEP from 7th-12th grade.
Achieved rank of Eagle Scout in the Boy Scouts
Won 3rdPlace-Junior Division at the 2013 STEP Statewide Student Research Poster Competition (March 8-10, Albany, NY) for his project, Physical Sciences-Senior Division, for his project, Stretching DNA Molecules on a Flexible Substrate Probed by Polarized-Dependent Fluorescence Microscopy. This research focused on the ability to stretch DNA strands by using polymers. Applications of this work could lead to deeper understanding of the genomic sequencing of the human DNA molecular structure. John was mentored by SCCC Professors John Jerome (Mathematics) and Vladimir Jurukovski (Biology), along with materials science mentors at Stony Brook University.
Won 3rd Place – High School Division at the Long Island STEM Diversity Summit Student Research Poster Competition (March 19, Farmingdale, NY) for his research described above.
John is attending Stony Brook University and study biomedical engineering. He hopes to one day become a medical research scientist.