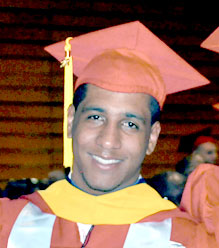 Jean Clifford Brutus
Region: Long Island
Program Institution: Stony Brook University
Education
College/University: Suffolk County Community College (SCCC)
Major/Minor: B.S. Mechanical Engineering
Graduate School/University: Stony Brook University

Work History
Employer: Brookhaven National Labs (BNL)
Significant Professional or Academic Accomplishments:
The origin of my interest to become an engineer started in Haiti. I moved to the United States 6 years ago, determined to further my goals and founded a deeper passion of my dreams to become an engineer. I attended Suffolk County Community College (SCCC) to earn an Associate's Degree in Engineering Science but after one year, I transferred to Stony Brook University to pursue my Bachelor in Mechanical Engineering (ME) and my Master of Science, funded by the Turner Fellowship Program.
My exposure to the STEM program at SCCC was an exceptional experience from which new opportunities emerged when I transferred to Stony Brook University. I continued my involvement in STEM and participated in many programs, such as Baja SAE Stony Brook Motorsport Team, for which I was the President in 2010-2011, the Collegiate Science & Technology Entry Program (CSTEP) and the Louis Stokes Alliance for Minority Participation (LSAMP) program which offered mentorship and funded my undergraduate research. In addition, the Science Undergraduate Laboratory Internships (SULI) program gave me the opportunity to intern at Brookhaven National Laboratory (BNL) and in my case, turned into a full time position after graduation.
As an assistant mechanical engineer at BNL, my responsibilities are to provide engineering and design support for RHIC Coherent Electron Cooling PoP project. I have a strong desire to excel in my profession by seeking new challenges. I will spend the time and effort it takes to succeed.

Jean Clifford Brutus, CSTEP Alumni, and his team was featured in The Motor Sports video. Click here to view their site.